the schedule

to see when we'll be near you?

If you aren't familiar with PDN's Annual Training Tour, let me give you some details about our mission.

The 2017 PDN Training Tour is a little less than a month in, and we've already offered courses in 10 states across the country! We have over 75 classes left to go during the next few months, and we'll be at about 50 more locations. Our team of instructors is more diverse than ever this year, and we're crushing the previous record with over 100 classes during the four-month-long nationwide event! Have you checked
Bring World-Class Training to Venues Across the United States
The most important mission of the tour is simple: Bring the best personal defense training that we can to the largest number of people possible across the country. We know training can be expensive, and the best way to cut costs from the traditional approach of traveling to a school is to bring the school to you, so that's what we do. Every course on the tour is a travel course. It's a course that the lead instructor has left his home for. In fact, when I recruit participants to the Instructor Team, I tell them that their class only qualifies if they are spending at least one night away from home to put it on. We reverse the roles by working with ranges and other training venues in as many places as possible to host courses. Some of these courses are in remote areas of the country, where training is not generally available from the caliber of instructor that we get at Personal Defense Network.

A major part of the tour since 2012 is my Tour Truck's drive from Florida to Washington State, with about 30 training stops in over two dozen states. I've been traveling to locations around the world to teach for a long time, and I started organizing a specific cross-country drive about a decade ago. Since combining the forces of I.C.E. Training Company, the Combat Focus Shooting program, and Personal Defense Network to establish the PDN Training Tour in 2012, I've put a higher and higher percentage of my annual classes into this trip. It's a great way to visit some of my favorite teaching locations and add new ones at the same time!

Personally, I have always thought it very important to try to develop what I refer to as "training communities" in remote regions. In some places, we have been incredibly successful over the years. There are locations on this year's tour hosting multiple classes that will be full, whereas a handful of years ago we struggled to get more than three or four people to attend.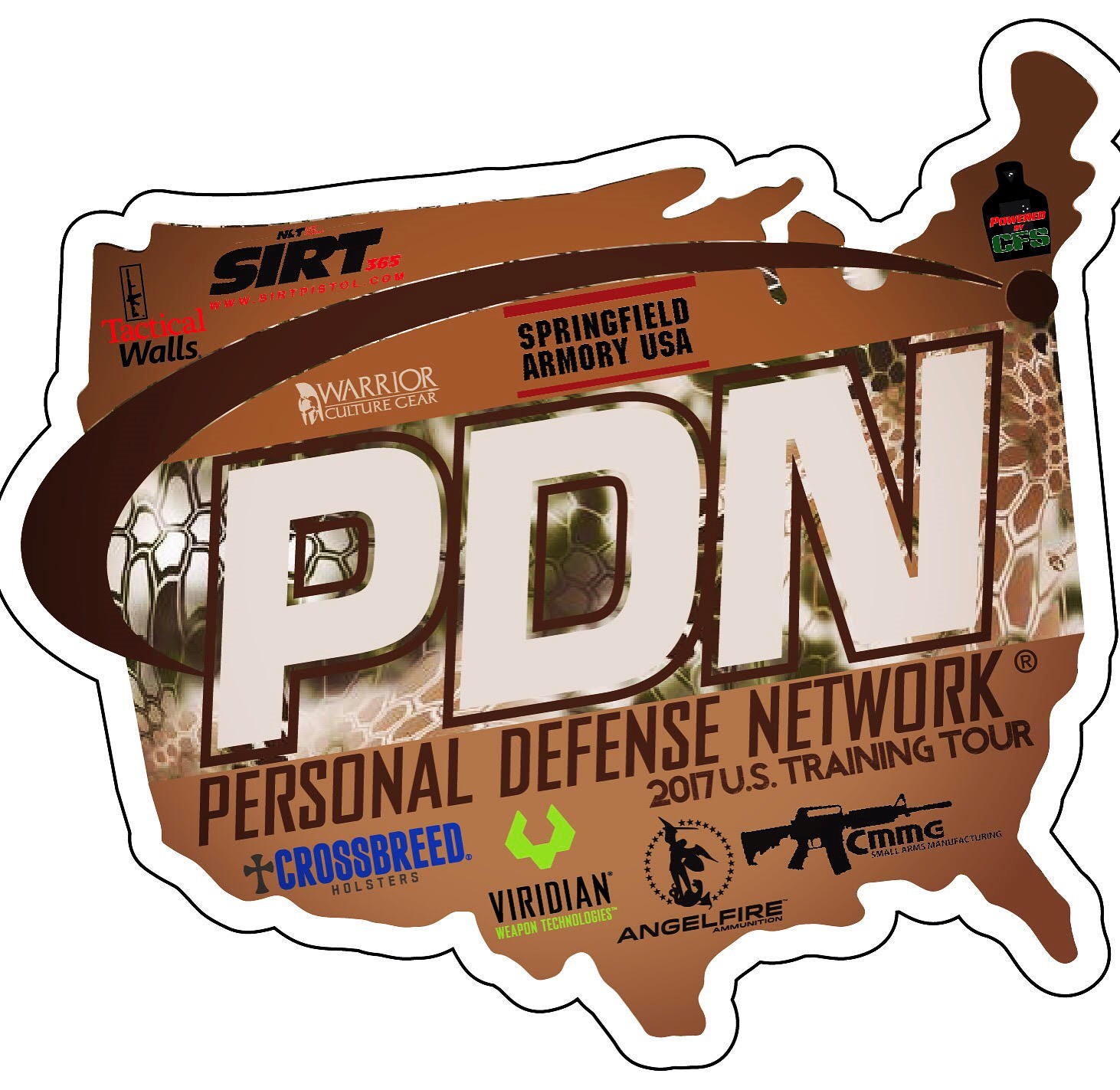 Work With a Great Team of Instructors
The PDN Training Tour is much bigger than just me traveling around in a wrapped truck, and even bigger than our team of nationwide Combat Focus Shooting instructors. This year's PDN Training Tour features a wide variety of talented educators covering various defensive shooting topics, home defense, emergency medicine, defense with knives, self-defense law, instructor development, and unarmed defense. This year, I am joined by Mike Seeklander, Deryck Poole, Caleb Causey, Barret Kendrick, Grant Cunningham, Craig Douglas, Alessandro Padovani, Andrew Branca, Aaron Israel, Mike Lowe, and Jamie Onion. Each of these guys runs their own training company and/or programs and has contributed content to Personal Defense Network. It is important to note that, for the most part, they are tying their existing travel classes to the PDN Tour during the months of March through July. These guys are busy and they run outstanding courses. I'm proud to have them on our team and encourage you to check out the classes they are offering.
Collaborate With Outstanding Industry Companies
Each year, the tour is sponsored by a select group of companies from the firearms and training industries. These tour sponsors are specifically approved by me because of the value I believe they bring to people truly interested in preparing for personal defense. The 2017 tour sponsors are Crossbreed Holsters (who have been with us since the first year), Springfield Armory, CMMG Rifles, Viridian Weapon Technologies, Next Level Training: SIRT Pistols, Tactical Walls, and this year's only first-time sponsor, AngelFire Ammunition.
Whether we are talking about reliable defensive firearms from the Springfield XD family or carbines from CMMG, valuable accessories like Viridian lasers and lights, SIRT training pistols for non-live-fire practice working with laser targets and simulators, the holsters or secure furniture we stage our defensive guns in from Crossbreed and Tactical Walls, or the high-quality practice ammo from AngelFire, it should be easy to see why we picked these companies for 2017. Without their participation, the tour would certainly not be the same. They help make it possible for us to reach those remote locations and put on the smaller classes that are vital to the tour's growth and future. Sponsors also provide some great swag for students attending classes!
Follow Us for Updates
This year's tour is off to a great start. Keep an eye on PDN's Facebook, Instagram and Twitter for updates, as well as the social media channels of our instructor team and tour sponsors. Classes are happening every week in multiple states throughout the duration of the tour, and great discussions often accompany the pictures and video clips on our social media pages. I'll be doing several live broadcasts throughout the tour from classes around the country on the PDN Facebook page and my own professional page as well.
You can learn a lot from the videos, articles, and online classes here at PDN, but there's nothing like spending a day or two in a small group working with a world-class educator to learn and develop your personal defense skills and improve your understanding. I hope to see you at a course on this year's tour, in one of the pictures from another instructor's tour class, or at least participating in the discussions on social media that are fueled by our activities on the ranges and in the classrooms!
P.S. AngelFire Ammunition is also offering their best price ever on bulk practice ammo that they can ship directly to the training location for all PDN Tour students! Details here.