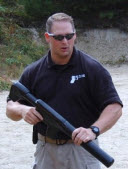 Training and teaching have been major parts of Chris Fry's life since he was a teenager, starting with martial arts and progressing into other styles of unarmed combatives, then edged weapons and firearms. With over 1,000 hours of training in various disciplines logged, he embodies the credo that there is always something more to learn. Since 1990, he has put that training to use teaching others. Today Fry not only works as a part-time executive protection agent but is also the director of Modern Defensive Training Systems (MDTS) in New York state and an adjunct firearms and combatives instructor with Progressive F.O.R.C.E. Concepts in Nevada. His students include private citizens and active-duty law enforcement and military personnel.
Under the auspices of MDTS, Fry puts his breadth of experience to use via diverse course offerings in reality-driven practical combatives skills, extreme close-quarters physical defense, tactical folding knife and edged weapon combatives, and combative pistol, carbine and shotgun skills.
Another specialty of Fry's is curriculum development. He is credited with developing many innovative rape prevention and child/student safety programs for schools and educational institutions. He is also the director of education and training for the New York State Rifle and Pistol Association.
Chris took some time out from instructing (and more training) to answer PDN's profile questions.
Why did you decide to become a trainer?
Becoming a trainer was more of an accident than a planned outcome for me. I began teaching to support my training junkie habit. I was the one in my shooting group who had traveled and continues to travel to attend formal training with various individuals and companies. I had been attending training like this for nearly ten years when the guys suggested I teach them some of the skills and drills I had learned over that time. I had condensed much of what I'd picked up into a streamlined personal training routine, and they liked that. Teaching was something I had been doing since I was 17, after receiving my first black belt and serving as an assistant instructor at my dojo. Things snowballed from there into MDTS, and we now conduct 50+ firearms courses and 10+ edged weapons and physical defense courses a year, mostly in the Northeast.
Lots of people teach shooting — in what ways do you teach it differently?
No matter what subject I am presenting, I do my best to follow certain criteria. I portray a positive attitude throughout the class, rain or shine. My passion for what I am doing is displayed by the energy I have throughout the day working physically with students, demonstrating every drill and shooting on the line next to a student to motivate them and push them to that next level. I strive to interact with every student in attendance. I believe in being available to my students before (answering phone calls and emails), during the specific course, and after it to support any post-class questions or concerns.
How do you motivate students to learn while in a class? What type of person should your students expect to deal with when they train with you?
In my experience, one motivator is simply showing attendees that just because I am the "instructor" teaching the specific course does not mean I am infallible. I demonstrate every drill and often go hands-on with participants. I make mistakes just like they do, and they see that. It sounds odd, but people really connect with that attitude and I see them performing better having dispelled any nervousness or trepidation about getting yelled at, making a mistake or disappointing the teacher. This open attitude motivates them to work harder and perform more in line with what their true skill level is at that time.
Students should expect to deal with a professional who is very passionate about what I am presenting. Someone who holds himself to a high instructor and skills performance standard and someone who truly cares that the student walk out of class with an increased skill level, better prepared to protect themselves and others.
Who are your inspirations?
Over the years, I have followed, met and trained with numerous inspirational people and trainers. The short list includes my family and anyone serving or who has served in the U.S. Military. In the physical defense arena: Peter Urban, Bill Kipp, Doug Marcaida, Cecil Burch, Rickson Gracie, Jeff Thompson and Den Martin. In regard to firearms training, there have been two very influential trainers I have had the pleasure of working with and calling friends: Craig Douglas (aka SouthNarc) and Brian Hartman of Progressive FORCE Concepts. Both exemplify what it is to be a complete person, fighter and teacher.
And who do you think are some of the best instructors teaching in your field today?
In addition to Craig Douglas and Brian Hartman, there are a number of very progressive, cutting-edge trainers in this industry today, including PDN's very own Rob Pincus, Paul Gomez, Claude Werner and Tom Givens. Guys I'd like to train with in the near future include Kyle Lamb, Mike Pannone and Travis Haley.
What can students expect to take away from your courses?
They can expect to be challenged. They can expect to be pushed beyond their current limitations and that I expect them to act, shoot and perform as if the class was a real fight. They can expect to walk away with a demonstrable increase in mindset and skill level. They will walk away with an understanding of what they need to improve upon and work on, not just affirmation of what they are already good at. Lastly, they can expect to learn how their gear works and holds up under pressure, and if it is the right choice for them and the context in which they live and/or operate.
Do you have a "typical" student? What is s/he like?
Most are citizens just like me, who want to learn about the tools/guns they either recently purchased or have had for 20 years. Many come to us because they are uncertain about the future and want to be better prepared to protect themselves or their loved ones. The majority come to MDTS with some previous training and end up returning to attend the same class and others over and over again.
What's your training philosophy?
I do my very best to demonstrate and espouse the concept that it is ultimately the operator and not the tool. I personally want to be capable of and want to develop students capable of protecting themselves and others in any environment, with any tool at any time. That is a big goal, but striving for personal excellence is the only way to live, train and teach others, in my humble opinion.
Looking ahead, what do you see in the future for yourself as a trainer? How about for your particular training industry?
I see my company expanding and working more and more with strategic partners and friends in this industry who share similar training goals. Most of those whom I train and associate with are not in this industry to make money — they are in it to improve themselves and help others. I'd like to stay on that path and not be burdened by the financial side of the business.
What is something that you've changed your mind about and why? Something that you used to teach but now realize isn't the best thing to teach your students or possibly a technique that you have replaced with something better?
If you ask alumni of my courses, they will tell you that my curricula are constantly changing and, I hope, improving. As I am exposed to different training with various individuals and companies, I run that training through my filter and decide where it fits into the context in which I live and operate to protect myself and my family. Then I integrate that filtered material into the class curriculum.
Over the last several years, I have changed my outlook on a lot of concepts and techniques. If I had to choose one, I'd say it would be the integration of decision-making drills into every class. Students need to realize that these classes are not just about the guns and gear but about the decisions they make in regard to why and when they choose to utilize them. I want them to realize they are accountable for accuracy, lack thereof, and for good or bad decisions.
Thanks to Chris for his answers. As one of PDN's regular contributing authors, he has several articles lined up for us in the coming months.
His company, MDTS, has a very busy training calendar year-round. Regular monthly Combative Pistol Skills and Practical Combatives workshops in central New York state, private and group training at the MDTS home range or your location, and a variety of courses including pistol, carbine and shotgun all over the Northeast are among MDTS' current offerings. Course details and more information about the company can be found at www.mdtstraining.com.