What should you do if you see someone being victimized? Do you have a Good Samaritan Checklist? Most good people would be compelled to get involved; to be the proverbial "Good Samaritan". Far too often, however, an attempt to intervene only makes things worse. Intervening at the wrong time or in the wrong way can put you, your family and your legal standing at risk. It can also endanger others in the area or even escalate the danger to the person you were trying to help. How can you avoid making things worse?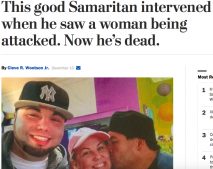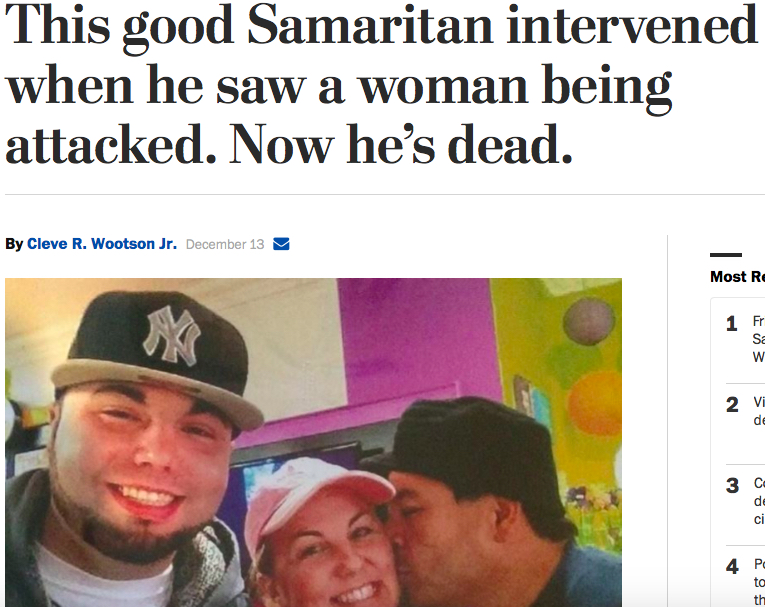 It doesn't take much time to find examples of tragedy involving would-be heroes. You can also find plenty of stories about people who acted heroically and were successful with details that reveal how close tragedy was. The point of this article isn't to diminish the likelihood of you helping someone when you can, it is to maximize your likelihood of success while minimizing the risk you expose yourself to.

The decision of whether or not to act in defense of others is one that you should serious contemplate, especially if you go armed in the public space and have trained to use your gun defensively. In the heat of the moment, complicated decision making or even accurately processing the information your senses are collection can't be counted on. But, if you have a simple checklist to go down, your odds of making a good decision can go up dramatically. Commit these three questions to memory, so that you might come up with answers quickly in the event that you think you see someone being victimized and are compelled to get involved:

1. Do you really know what is going on?
2. Are you confident your involvement will make things better?
3. What is the least you can do?

By answering these three questions, your chances of making things worse will go do down significantly. Let's look at each item on the Good Samaritan Checklist:

1. Do you really know what is going on?

Are you sure you are seeing a victim that needs help? Is the person you are wanting to intervene on behalf of really the original aggressor? Is the person you think is the attacker really a plain clothed police officer trying to perform their duties? Open your senses and look for clues beyond the actors. There may be other witness in the immediate vicinity that you can ask for information as well.

2. Are you confident your involvement will make things better?

This question needs to be answered in two ways: First, if someone is being verbally assaulted and you interject, what are you really hoping to do? If you escalate things, will you make them worse. Keep in mind that making yourself a victim, even if you do help the other person, may very well make things worse for you and your family in the long run. It is all well and good to be willing to sacrifice for the greater good, but will your family and those who depend on you agree with, much less be made better by, your decision? It is one thing to get injured or arrested fighting evil when that evil attacked you directly, it is a very different price to pay when you interject yourself into a situation.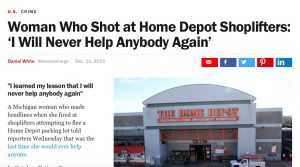 The second way you need to answer this question is in terms of your actual capabilities to make things better. If you are attacked in a way that overwhelms your preparations, you still need to do something. But, if you are witnessing a situation that is beyond your ability to confidently intervene, you are simply being reckless to get involved. An example might be wading into a situation where a crowd is physically attacking one person. If you were attacked by a group of people, doing your best to protect yourself, possibly disable one or more of them and attempting to get away are of the necessity. If you wade impulsively into a crowd that you know you cannot take on entirely by yourself and simply hoping things work out, you would be judged reckless by most people who take self-defense seriously. Keep in mind that it is much harder to protect someone else and yourself at the same time.

3. What is the least you can do?

That line from Edmund Burke is often referenced during these discussions, so let's make sure we get it in here:

"The only thing necessary for the triumph of evil is for good men to do nothing."

I agree… but, I know that there are often many ways to get involved beyond doing "nothing". It may take a second or two to process your options, but after you've determined that you do know what is going on and that you can make things better, it is worth taking a moment to figure out the best way to intervene. Unlike at attack directly on you, when you decide to intervene you have the initiative. You have the opportunity to expose yourself, and everyone else around you, to as little additional risk as possible. Perhaps maintaining distance, possibly even staying hidden, contacting the police and simply calling out to the attacker to stop and letting them know they have been seen are enough. Perhaps threatening to get more involved without actually making contact is enough. Perhaps you can find an improvised tool to use instead of getting involved with bare hands, if that is your only other options.


Sometimes, the old adage about "being a good witness" is vita, especially when you are witnessing a property crime, including something like someone stealing a car or engaged in other serious crime. Remember, there is a big difference between being a Good Samaritan and being a Vigilante… but, in the heat of the moment, the line can get blurred very quickly.

Commit the Good Samaritan Checklist to memory as part of your training. One great way to get started is to share these concepts with others and discuss them… perhaps they will have some interesting points of view that help you understand your own inclinations better, especially if you talk to people who care about you and would be affected by the ramifications of your interactions.

-RJP