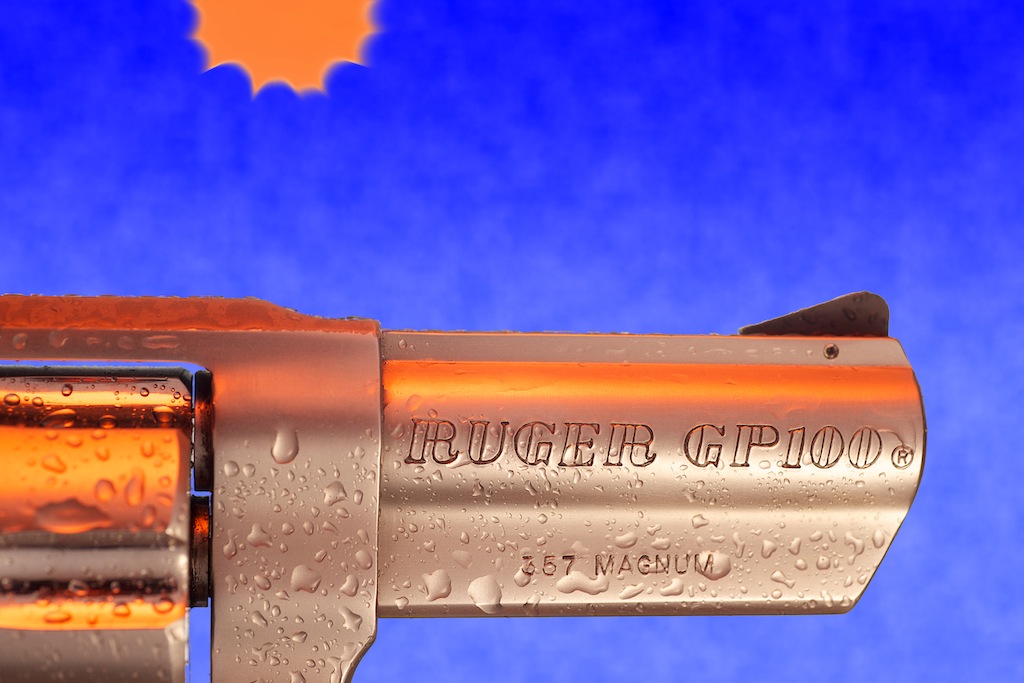 Summer, summer, glorious summer! The weather is warmer, days are longer, the living is easy, and seasonal affective disorder retreats to the shadows from whence it came. Who doesn't love sunny weather?
For the person who carries a firearm, the change of seasons brings new issues. Knowing what they are and how to mitigate them will help you to carry your defensive tools and enjoy the warm weather at the same time!
The Telltale Squeak
As the relative humidity drops, everything dries out. Since I live in the wet Pacific Northwest, this is most appreciated, but just as the mud dries and the toadstools desiccate, so does the leather from which our belts and many of our holsters are made.

Though you might not think of leather as being moist, it is. A new piece of tanned leather reportedly has a moisture content of around 14%. If that's reduced, the surface of the leather cracks and the individual fibers start to abrade each other.

The first sign of drying, especially if the holster and belt are both made of leather, is a noticeable squeak where the pieces rub against each other. People often complain that their belt and holster make noise as they move, and while many solutions are recommended, most of them — such as the application of baby powder — actually make the problem worse by drying the leather more! When a belt and holster make noise, it's a sign that their moisture content is low. Think of the sound as being that of a door hinge; when your bathroom door squeaks, you lubricate it. When your belt squeaks, you need to lubricate it too!

Obenauf's Leather Conditioner

. Made to treat the boots of woodland firefighters, where exposure to intense heat and ash dries leather more efficiently than a kiln, Obenauf's is perfect for bringing the moisture of the leather back to where it should be. It won't give the shiny finish that a good polish will, but it's even better for the health of the leather.

Whichever you choose, be sure to treat the whole belt — inside and out. The area that is bent where it passes through the buckle is particularly prone to cracking and deserves more frequent application of your product of choice.

The easiest method, and the one that looks best, is simply to polish the belt with a good grade of neutral shoe polish. I've used Kiwi brand for years with good results. My favorite method to rehydrate leather is a great product called
Perspiration Concerns
The body of any leather holster should be treated much the same as the belt. Remember that leather isn't just moist, it's porous. During the warmer months, we tend to perspire more than we do in cold weather, and that perspiration brings with it a host of problems for gun carriers.
Sweat is quite acidic and quickly works its way through the leather of a holster and onto the gun being carried. Acid isn't good for metal, as it causes corrosion. While blued guns are the most susceptible to sweat-induced rust, stainless guns can also be corroded by sufficient perspiration. Even if your gun is corrosion resistant, the lubricants that allow it to function may break down in a moist, acidic environment. It's best to keep sweat away from all guns, stainless or blued.
Acid, of course, is corrosive to leather too! A holster or belt subjected to profuse perspiration will become more pliable as the leather fibers begin to break down. After a sufficient amount of time, a holster may no longer keep its shape or retain the gun as securely.
One solution seems to be a holster made from a thermoformed plastic such as Kydex, but many people — myself included — find their stiff construction quite uncomfortable. The solution for those who choose a leather holster is to keep the sweat from getting through the leather in the first place!
A good treatment with polish or (preferably) Obenauf's is the key to sweat resistance. Again, Obenauf's is my personal choice. Part of the job it was designed to do is seal firefighters' boots from water and the lye-like slurry that it forms when mixed with ash. It works just as well against sweat.
An extra treatment of polish or Obenauf's on the back of a holster will dramatically reduce the porosity of the leather and leave the holster's contents better protected. I re-apply polish at least monthly, and Obenauf's at least once during the summer. Those who live in climates where summers are longer and hotter than ours will want to treat the leather more often to maintain protection.
Choosing an IWB Holster and Belt for Hot Weather
As I've mentioned, my personal preference is for leather holsters. The plastic varieties, with their hard, unyielding edges, cut into my flesh. I realize that might make me sound like less of a he-man, but avoiding pain is one of the things at the top of my to-do list! Leather, being more pliable, molds itself to the body and is far more comfortable when the heat is on.

Another variation on that idea is a holster that has an application of suede on the side that contacts the body. Many years ago, I purchased such a holster from custom maker Mark Garrity, and found it to be superb in the heat of the summer. Over the years, I've had a couple of holsters made by others on which I requested that addition. The increase in comfort is really appreciated when the temperature rises.

That doesn't mean it's perfect. The smooth surface of most holsters seems to chafe more in sticky heat. Like many people, I've found that a holster with the unfinished (rough) side out is just enough softer, and retains less moisture, that it makes carry on a hot day much more pleasant. There's a reason that legendary holstermaker Milt Sparks designed his aptly named Summer Special to be made from rough-side-out leather!

In any case, make sure to remove your gun from the holster immediately upon taking it off your belt. This allows both the gun and holster to dry overnight and will greatly reduce the potential for corrosion.

I've found that belts with smooth surfaces dry out faster and make more noise than belts with stamped patterns. The decreased surface area in contact with the holster helps, while the nooks and crannies of the design hold leather treatments longer than the smooth varieties. Those embossed surfaces not only work well, but they look great too!
The Pocket Option
I know a number of people, particularly those in southern states, who switch to pocket carry during the summer. Carrying in a pocket allows a wider range of dress, since there's no need for a covering garment. I'm told that in southern Florida pocket carry is the preferred method year round.
If you decide on this carry method, don't just drop a J-frame into your pocket and call it good! Use a decent pocket holster to both protect your gun from lint and other dirt and to keep the grip in a consistent position for an efficient draw. The pocket holster is just as important as the belt holster, and you should spend some money on a good one.
Most pocket holsters are made with a single thickness of leather. The recommendation for treating a pocket holster is the same as that for the single thickness belt holster. It's especially important that the gun be removed every night to dry, and when you do so, take a few extra seconds to blow away any collected lint and fuzz.
Aside from serving as a physical barrier that prevents mechanisms from working, lint and fuzz attract liquids — including the oil on your gun! Lint is a very effective oil sponge, and failing to remove it can result in a dry gun in surprisingly short order. Dry guns aren't reliable guns!
If you choose a small autoloading pistol for pocket carry, you'll need to field strip, clean and re-lubricate the gun frequently. I recommend doing so at least every other week, and in very humid conditions I'd do it every seven days.
Take Care of That Ammo, Too!
You should take extra care of your gun during hot weather, but make the effort to maintain your ammunition as well. Though many people have done tests that suggest ammunition doesn't suffer in humid conditions, I think it's worth pointing out that they're unlikely to be standing next to you if your gun should fail. When someone tells me that I don't need to be concerned with the state of my ammunition, I take their opinion with a large grain of salt.
I recommend that, like me, you err on the very conservative side. I change ammunition in my pocket guns — as well as any ammo that I carry in the pocket as a reload — every month. That may be overkill, but the last thing I want to hear when I stroke the trigger is the loud "click" of a dud round!
Don't Forget Why You Carry
Remember the nice weather that brings you out also brings out criminals. Don't let the bright, happy sunshine lull you into leaving your gun at home because "it's too hot to carry." Choose your gun and holster with care, and take good care of them. That way they — and you — will be ready if the unthinkable happens.

Enjoy your summer!

No Comments

Of course a rough-side-out holster, or one with suede backing, can't be treated with polish or Obenauf's to resist sweat. Luckily, most such holsters are laminates, meaning that they're composed of two thin pieces of leather glued together. The glue between them forms an effective barrier to perspiration. If your rough-side holster is made of a single thickness of leather, you might consider treating the inside, which should be smooth, with something like Obenauf's.