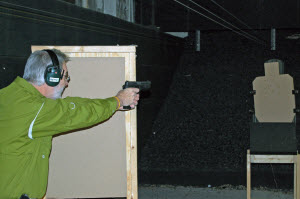 Training for real gunfights is a tricky business. The reality is that very little is known about law enforcement officers involved in dynamic critical incidents. Even less is known about civilians who are involved in such incidents.
Rob Pincus accurately points out that there are four factors that affect your ability to hit the target in a dynamic critical incident. In his book, Combat Focus Shooting: The Science of Intuitive Shooting Skill Development, he lists the four factors that affect what he calls the balance of speed and precision.
1. Distance to the target
2. Size of the target
3. Circumstances under which you shoot
4. Anticipation of the need to shoot
In this article, I will examine the distance at which you will likely have to shoot.
Anyone who has been in a training class has heard a version of this: "Eighty percent of gunfights happen in less than three seconds and at less than 20 feet." We say this, but we do not really know it to be true. The only reliable statistics for distances of dynamic critical incidents are maintained when a law enforcement officer (LEO) is killed in the line of duty. That information is not readily available when an LEO is involved in a shooting but not killed, and those statistics are not collected for civilian shootings.
Perhaps this is an urban legend handed down through the training community over time without any statistical fact. But it may be accurate. As a trainer and curriculum writer, I wanted to know the truth.
The Search for Statistics
I confirmed the information with the FBI and Department of Justice. There are no reliable statistics on civilian shootings in the United States. I also confirmed that 80% of LEO shootings between 2000 and 2009 happened at 20 feet or less. This statistic has been similar over the last several decades. It would seem this is the basis for the belief that 80% of all shootings happen at less than 20 feet. So we have some verifiable basis in fact. But are circumstances for civilian shootings different than shootings involving LEOs? Do LEOs get closer to make arrests and therefore get involved in close-range shootings? Do civilians wait until the last minute to pull the trigger in self-defense?
I began asking around to find someone with information on distances in civilian shootings. Everyone I talked to, and I do mean everyone, directed me to Tom Givens. Tom runs
Rangemaster training
in Memphis, Tennessee. Tom has a nationally recognized reputation for civilian firearms training.
Tom told me that 56 of his students have "had to use a handgun to defend themselves or family members." He said that of the 56 students, two were in physical contact with the attacker. In three cases, the defender was forced to fire at 15 yards or beyond. The longest was 22 yards. Tom uses the length of a typical car as a training distance. He said, "Confrontational distances are conversational distances, for the most part." This certainly makes sense and matches up with my experience investigating shootings during my law enforcement career.
Another LEO and Combat Focus Shooting Instructor, Jamie Onion, reinforces the point. "I think that most civilian shootings involve one of two dynamics: escalated arguments or ambushes. That statistically would merit CQB [Close Quarter Battle] or just beyond two arms' reach."
So, Tom Givens has some pretty reliable statistics. It also parallels what we see in LEO shootings, although Tom's numbers reflect that 90% are at seven yards or less. One reason for the slight increase may be described by Butch Arnold. Butch is a staunch Second Amendment advocate, gun sales professional at Vandalia Tactical, and veteran of a personal defense gunfight. He put it simply when he said, "Most people probably don't feel threatened at distances greater than 20 feet." Even though an attacker may present a legitimate threat at farther than 20 feet, most people will probably wait until the last moment to fire.
Training for Longer Distances
What about that other 10 to 20% of shootings? Should you train for longer distances? Can a pistol be effective at longer distances? The first handgun I was issued by my police department was a Smith & Wesson Model 10. It had plain black sights, a worn heavy barrel, and was pretty much the same gun that was issued to the same police department when we arrested John Dillinger in 1933. Part of our qualification was at 50 yards. We had to hit a target consistently at 50 yards or we were out of a job. There were no fancy sights, no target grips, and no tricks. Just sight alignment and trigger press. Police officers everywhere were able to consistently hit the target multiple times at 50 YARDS.
Somewhere along the line, we got away from shooting at 50 yards and now when I teach police academies, the longest distance they shoot at is 50 FEET. We probably changed because we realized the vast majority of dynamic critical incidents happen at short distances. But what do you do if the distance is longer and you or your family is still threatened?
Remember the North Hollywood shootout in 1997? The two suspects clad in black body armor terrified the nation. But what ended the gunfight with the first suspect going down? A pistol shot to the head. Mind you, he did it himself, but an accurately placed pistol shot could have ended that incident at the beginning.
Tom Givens has an answer to this situation. He says, "We train to cover the 10% on either end of the spectrum in case we are involved in a non-typical, or not average, gunfight." Tom had a student who had to shoot at 22 yards. When Tom talked to him afterward, the student said, "You know, when I had to shoot that guy all the way across the street, it never occurred to me that I was a statistical exception. I just had to deal with it."
What You Can Do: Assess Your Skills
Take this information and assess your personal skills and consider what situations you may be likely to face. Attend a Combat Focus Shooting class or some similar class that is proven and effective. Good training always improves your performance and demonstrates where you need additional improvement. Do not rely on old training. When it comes to keeping yourself and your family safe, ask "What have I done for me lately?"
What You Can Do: Home Audit
Something I suggest to all my students is conducting an audit of your home. Determine what the longest distance is that you may have to shoot inside the home in the event of a home invasion or other type of crime. Be sure to look at all the angles. Role play scenarios of burglaries, home invasions and other crimes. Use that scenario training to get the locations and measurements you need for a complete and accurate view of your home.
Take news stories of crimes that happen in your area and turn them into "what if" training. Ask yourself and your family, "What if that happened to us? What would we do?" Talk it out and plan from there. Will you use a handgun in that situation or do you have a shotgun or rifle available? The type of weapon system drastically changes the effectiveness of your defense.
We carry handguns because they are portable and concealable, but they are not always the best weapon available. If miscreants come to the humble Williams abode to do harm, they are likely to be greeted by a tried-and-true Remington 870 or an AR-15. Consider a long gun for home defense, but be sure you are proficient with any weapon that you count on to defend your life.
Once you compile those distances, make a training program for yourself.
What You Can Do: Your Personal Training
Now that you know the distances, set up your own personalized training regimen. Get realistic targets and set them at the distances you measured. Remember that your attacker is likely to use cover and concealment, so incorporate that into the training. You can fold the targets or place cardboard over parts of the targets to represent the attacker using a couch or refrigerator or wall as cover or concealment. And remember the difference: Cover blocks incoming fire. Concealment keeps an attacker from being seen.
Combine all this to form your personalized training and emergency plan. Make your home defensible and your family tactically wise, and have the tools to keep the people you love safe from harm.
23

Responses to "Playing the Odds: Training for Real Gunfights"