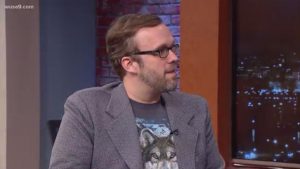 Tim Young was out and about on M street in Washington DC when in an instant his world view changed. Two men robbed him at gunpoint and made off with his cell phone. No one stopped them and he was rendered defenseless. Tim is a local political comedian, and he went public immediately sharing his changed perspective with the world via social media.
He responded to the experience stating "Terrified. You know, when I talk to people about this… you're scared. There's no man card involved. I was defenseless"
He tweeted immediately after the experience: Details: Last night I was robbed at gunpoint by 2 men in DC by the new @TheWharfDC on the way to get coffee at @dolcezzagelato at 7:45pm. They got my phone and tossed me around while people watched from a half block away. Then they ran off. Thanks to @DCPoliceDept for your help."
TIM SHARES HIS STORY – WATCH THE LOCAL NEWS REPORT HERE
Local channel 9 news in DC tweeted: ( @wusa9 ) .@TimRunsHisMouth says 6-7 people saw what happened and didn't help while he was being robbed. He's now changed his mind on guns. Wants to feel safer. Tells @brucejohnson9 he plans to apply for a conceal & carry permit.
Tim concluded with a statement about people who do not currently feel a need to have a permit, "I think a lot of those people who are opposed to having a conceal carry permit and being able to own a weapon have never had one pointed directly at them when they have nothing on them."
It is often stated that you never feel the need to protect yourself if you have never been directly affected by violence or situations where evil rears it's ugly head. This is yet another example of that notion ringing true as Tim openly admits that this experience has changed him forever!
What was your "life changing moment" that made you change? Share with us below or on our Facebook page today!