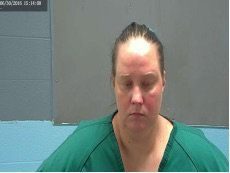 Image source: https://www.nola.com/crime/index.ssf/2018/07/amite_family_kept_autistic_wom.html
---
Depravity: a condition that moves beyond bad conduct, beyond gratuitous infliction of pain and suffering upon others, beyond even cruelty. Depravity extends into a realm of the complete lack of moral compunction and a finding of joy in the devaluing and destruction of human life. As an artifact of human behavior, it bears some scrutiny for the fact that normal, ordinary, rational people are quite rightly loath to look into its abyss, leaving lessons unlearned.
In today's case example, a rural Louisiana family subjected an intellectually disabled family member to their unbridled collective depravity over a sustained time period, resulting in recent federal charges. The breadth of the criminal conduct in this case spans an astonishing array of offenses, including kidnapping, sex trafficking, false imprisonment, assault, battery, torture, extortion, benefit fraud, theft, and indecent assault, but the charges themselves do not convey the full horror of what acts were perpetrated. The joyful inventiveness, intimacy, and sheer viciousness of the abuses inflicted upon their own kin show in this family the very worst human capacities.
Moreover, the clear abandonment of any accepted code of human conduct by a group of offenders acting in concert against their own is doubly shocking. It is easy to identify the misappropriation and theft of the victim's benefits as the motives in this case, but perhaps too easy, as the onset of the brutality coinciding exactly with the unfortunate demise of the victim's mother would seem to reference some pent-up aggression finally free to be expressed. Was the female ringleader resentful of the victim's place in her mother's affections? We may never know, but it is clear that she marshaled and sustained a horrifying and gratuitous regime of torture for some reason significant to her alone. Please note the enthusiastic participation of the additional relatives and cast a thought to the power of group behavior over individual morality and bonds of relatedness.
The messages for aware practitioners of self-protection are that there is no reliable and intrinsic brake on the behavior of Violent Criminal Actors, and that to rely on one, in the absence of any other strategy, is to choose victimization beyond our imagining.
As always, thank you for reading. #thinkhardtrainhard #bedangerous #aprillriskconsulting