Last year, at the beginning of a series of tragic shootings and senseless violence against police officers around the country, a police officer in Minnesota shot a legally armed man. That man was Philando Castile and I think that there are some things we can learn from the Castile shooting.

If the aftermath of last summers breakdown of relations between portions of our society an the police, one thing we did here at PDN was to put together a distance education course on Interacting with Law Enforcement While Armed. I have been carrying a gun for almost three decades now and I've spent the majority of that time as a reserve or full time police officer as well. I travel the country almost constantly since 2008 and have had many interactions with officer while armed. I've also had a few interactions with both legally and illegally armed people while in uniform. I have provided thousands of hours of training to both Law Enforcement Officers and Concealed Carriers of Defensive Firearms. I think I have a pretty good understanding of the challenges from both sides. So, what do I think we can learn from the Castile Shooting? First, we have to establish which "we" I am talking about: The Police Officer:
Police Officer Training needs to evolve and get caught up with the growth of Concealed Carry across our country. Nowhere during my 600+ hr Police Academy or in my times in Field Training Status with various agencies was there a specific block of instruction on dealing with a legally armed people. The fact is that before the mid-1990's there just weren't that many people carrying concealed. For most of the era of modern policing in this country, chances were very high that if a police officer came into contact with someone carrying a gun, they were violating at least one law and probably a downright "criminal" person. Keep in mind that in the mid-1980's there were almost 16 states that had No Provision for Legal Carry (including Texas and Alaska!) and 25 more only had may issue provisions, some of which (including NJ, CA and NV) were very restrictive. The training I received at the Academy in the 1990s was informed by the experience of officers who rarely came across someone who was what we would today consider the "typical CCWer"; a law abiding, pro-police, pro-rule-of-law, patriotic Citizen.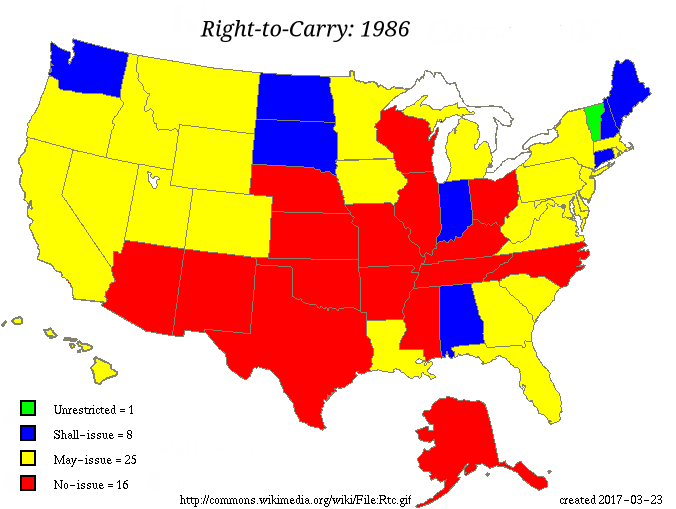 Things really started to change in the mid-1990s and today, there is a provision for carry in every single State, most of the States operate under a Shall Issue law where you can get a carry permit without any special justification as long as you are not prohibited (ie- rightfully infringed) for legal or mental health reasons and over a dozen States offer unrestricted carry rights that don't even require a permit! The landscape has certainly changed.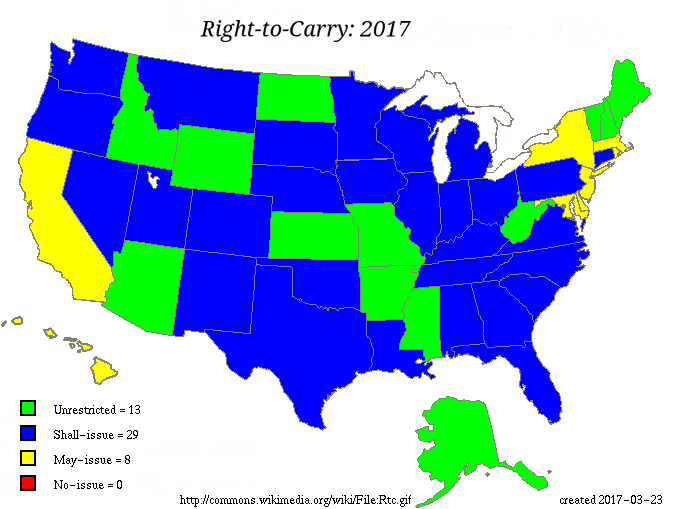 Which brings us back to the Castile Shooting. In today's America, police officers cannot afford to jump to the conclusion that anyone carrying a gun is up to no good. There are now millions of legally armed, trained, responsible 'Merica-Loving citizens out there. Cops are going to come into contact with them more and more often on traffic stops, routine investigations, while taking reports of crime, while rendering aid to motorists or responding to traffic accidents, returning lost children or just passing by them on the street while they are legally openly carrying firearms. While many agencies and officers have been proactive, I believe that law enforcement training as a whole has fallen behind in this area. We need to educate our police officers (new and old) and the responsibly armed citizen, how two interact with them and remind them not to be afraid of someone just because they are carrying a gun.
My questions in the immediate aftermath of the Castile Shooting revealed around the officer's behavior and what his typical behavior was on a criminal investigation traffic stop. For those of you not familiar with the incident, you can learn more about it and see the dash video HERE, the car was stopped because the officer suspected that the driver might have been a suspect in a crime. The articulated reason for the stop was a non-operational brake light. That is standard police work and there is nothing particularly wrong or nefarious with it. But, at this point, now that I have watched the Dash Camera Video, things start to get less normal. First, the officers at the car don't seem particularly on edge, worried or nervous when the interaction starts. In fact, the officer who will eventually shoot and kill Castile seems very relaxed and is downright friendly. He is not in an aggressive posture and his hand can clearly be seen resting on his thigh as he squats down to make eye contact with the driver as he asks for his license and registration. The Cover Officer can be seen standing in a very relaxed posture as well, with his hands no where near any of his defensive tools during the early interaction. As soon as Philando Castile tells the officer he is carrying a firearm (something that I suggest legally armed people do), the officers posture, attitude, voice and hand position change. He immediately reaches for his gun, indicating to me that he felt threatened. It is possible that he felt threatened because of an action Castile took, but that is not what I believe happened. I believe he over-reacted to the idea that there was a gun in the car, dramatically escalated his own response and set in motion a series of actions that played out very very quickly and resulted in Castile's Death. None of this is to say that Castile didn't actually (and tragically) reach for his gun and make a move that anyone might have interpreted as threatening. We don't have a camera showing that angle and we will never actually know.
I believe that if the officer had established better control over the situation when he first approach the car, particularly since the stop was a criminal investigation and not the proverbial "routine traffic stop", things probably would've have played out very differently. Perhaps Castile was just waiting for his chance to shoot a cop? If the officer had positioned himself differently and attempted to establish more control with his verbal commands from the beginning, it would probably be very clear to us right now if Castile had tried to shoot him. If the officer had established better control from the beginning, perhaps Castile would've been told to keep his hands on the steering and might not have made a movement that got him shot. Monday Morning Quarterbacking? Yes… that's how we learn. Put the emotional response aside. Forget the "you weren't there how do you know?" knee-jerk reaction and figure out what we can learn from this event. No cop wants to shoot someone they don't need to. Most cops don't want to shoot anyone. Most cops take their training and tactics and performance to avoid having to shoot anyone very seriously. There are things we can learn from, or at least be reminded of by, the Castile Shooting.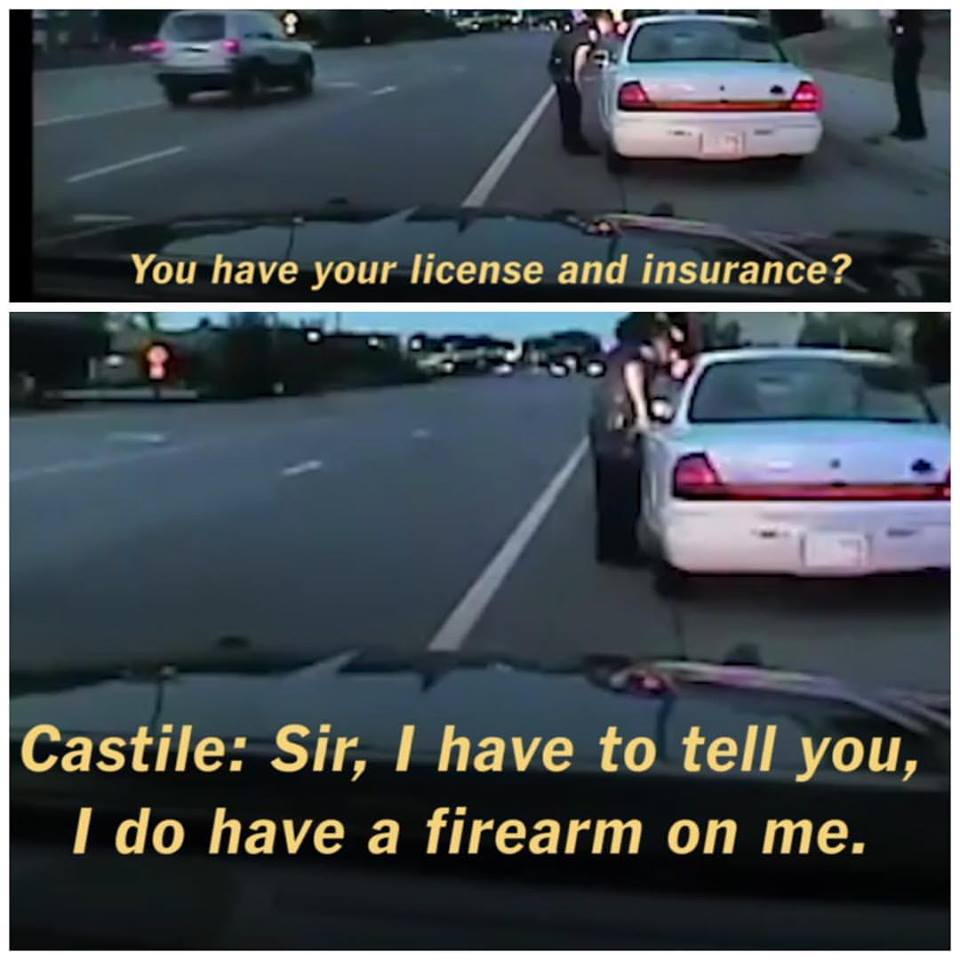 The Concealed Carrier:
I've written and taught about the topic of Interacting with Law Enforcement While Armed much more from and for the perspective of the Armed Citizen over the years. After all, educating people interested in defending themselves and those they care about is the mission of Personal Defense Network. At the beginning of this article, I mentioned the distance education class we developed, which has been incredibly well received and appreciated by students. A great review of that course was post HERE several months ago. We also did a PDN Live on the topic back in March at the start of this year's Training Tour. Here's a quick summary of the advice I offer:

1. Always calmly let the officer know that you are legally armed with a gun or any other defensive tool. Tell them, don't show them.
Regardless of whether or not it is required by law, this is always a good idea.

2. Keep you hands visible,and don't make any sudden movements.

3. Keep you hands open when possible and away from the part of your body where any defensive tool is concealed.

4. Remember that the officer you are talking to may not be the only officer watching you, there may another officer observing from a different angle that can see things as well.

5. Keep your ID and CCW Permit on your body at a spot where there are no defensive tools so that accessing them can be done without simultaneously reaching towards something the officer could consider threatening.

6. Lower tinted windows, turn your interior light on at night and place your hands (with fingers splayed open) on the steering wheel when an officer approaches your vehicle.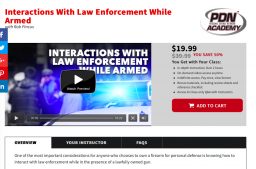 These are simple steps you can take to keep things from escalating out of control. To prevent the officer from thinking you are threat. To prevent the officer from seeing your gun before you have told him and making him or her think that you were hiding it so you could hurt them with it. While it may not seem fair and it may not be right, you have to accept that you are the one on the defensive when you are approached by a police officer. You owe it to yourself to let them take control of the situation and get through it with as little anxiety as possible. If you truly feel that you are being treated unfairly, it is far better to to let the situation play out and deal with the aftermath in a supervisor's officer or even in a court of law than it is to get shot. Many people talk about complying with the police… I prefer the term "cooperate". We're all on the same team. I don't know anyone who wants to get shot by a cop, or anyone else for that matter. Most people who carry a gun for defensive purposes take their training and tactics and behavior to avoid having to shoot anyone very seriously. There are things we can learn from, or at least be reminded of by, the Castile Shooting. -RJP