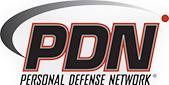 TOP REASONS TO SIGN UP
1) STAY CONNECTED Be a part of the most active personal defense community on the web.
2) STAY SHARP Get high-quality personal defense video instruction direct to your inbox every week.
3) FULL DEFENSIVE TOOLBOX Train in the use of firearms, blades, electric and chemical devices, and unarmed skills.
4) SCORE DEALS First crack at subscriber-only deals, giveaways, and exclusive opportunities from PDN partners.
5) IT'S FREE! This one's a no-brainer!