Just before 10 am on November 28, 2016 the emergency management division of Ohio State University tweeted a warning about an active shooter on the OSU campus.





As is always the case with dynamic violent events, the details were muddied. This isn't a surprise. Eye witness reports are sketchy and it is a difficult task for authorities to piece the details together to provide an accurate picture of a spontaneous event like this would be spree killer. It makes sense to try to understand the facts about a situation before drawing conclusions, but at the same time, many of the facts don't really matter. Especially if you find yourself in the middle of an attack perpetrated by a spree killer.

I understand the frustration that has arisen in the pro-Second Amendment community with media reports of this event as an "active shooter". It seems to be an almost intentional attack on guns. Many are right to point out that guns aren't the issue here. Instead it is the will to do harm to innocent people in order to evoke fear into a population and force change. Terrorism.

A logical error is keeping people afraid, unnecessarily.
The 18 year old Somali born immigrant and those like him want to hurt you. It really doesn't matter why. It is just a fact. They want you to be afraid and to live a life of fear. They want you to worry about sending your child to school and off to college. They want you to worry about going shopping for the holidays, and about flying on 9/11 and every other day. In some ways, the battle they are waging has been working. We can see the fear in social media sound bytes:




Odd, this terrorist didn't have a gun.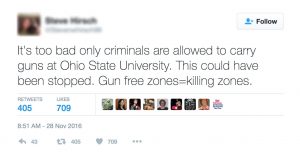 Again, interesting conclusion. No victims died, the terrorist didn't have a gun, and the hero police officer did stop the event. These opinions and the thousands that are shared like them aren't helping. In fact, they are perpetuating the belief that the only thing that can stop the attack of a madman is a good guy with a gun. In this case it happened to turn out that way, but if the Columbus PD hadn't been able to respond with such speed, this problem would have been solved in some other creative fashion. Don't get me wrong. I believe the Second Amendment applies to college campuses and those that live, work and spend time on those campuses just like it applies every where else. What people seem to be forgetting is that just because their 2A rights have been restricted in some places, the right to self-defense, a human right granted by the very same creator, hasn't been stripped away. Remember that frustration with media reports of the "active shooter"? GUNS AREN'T THE PROBLEM!

Guns aren't the the problem and they don't have to be the solution.
That is the reason I don't agree with the fear and confusion that spawns these messages and spreads the wrong idea about defending ourselves from attackers like this Somali terrorist and even spree killers that find more success in their evil. In fact, if we apply some logic to the situation the actions of the terrorist give us the power to know that there is no reason to have additional fear in a "Gun Free Killing Zone" compared to any other location.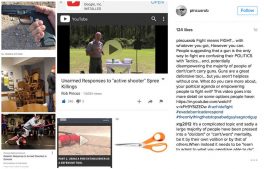 Guns aren't the problem and I want everyone to understand that a gun doesn't have to be the solution. A gun can be the solution and in this case it was, but the solution can be a fire extinguisher to the back of the skull, or a coordinated group rushing the attacker, controlling his weapon and stomping out the fight, or an astute driver crushing the attack and the attacker with their trendy hybrid. Maybe the solution that matters most to you and your family will be a medical response in the immediate aftermath of an attack. Nope. This wasn't an active shooter. Even if it was, the gun wouldn't be the problem. Instead, this coward sowed his evil with an automobile and a kitchen knife. The seeds weren't related to the tools. Instead, they were born in the commitment and intent of his evil soul.
In the same manner, the solution isn't dependence on a specific tool. Instead, the solution is your commitment and intent to stop a violent attacker by whatever means you have available to you. If the right tool for the job is a gun and you have a gun, great, get to work. If however, you find yourself in the path of a spree killer with no gun because of laws, your own choice, or any reason in between, it is time to get to work regardless.

Willingness to act, regardless of the tools available, is the real solution.
I want the students, faculty and staff of The Ohio State University to have their Second Amendment Rights fully restored. In the mean time, if you find yourself on the OSU campus or anywhere else where concealed carry is restricted, take the advice of Rob Pincus and "Don't confuse your politics with your tactics." The fact that you don't have a gun doesn't make you HELPLESS any more than the terrorist on campus in Columbus was HARMLESS.

When it comes to politics, work for change that you believe needs to occur. When it comes to tactics, train, develop the skills, willingness and commitment to act, and if the situation arises, get to work regardless of the tools at hand and encourage others to do the same.

-Paul Carlson